Showcase your premium, organic, luxury, and out-of-Africa products and services to a specific audience in all sectors during TABEF2023. The booths will be located in the B2B area.
Present your products/services and promote your company for new partnerships
Face-to-Face Marketing via Virtual & In-Person
B2B Networking
Sectoral Panel Sessions
Standard Exhibitions
Cantek Tasarım Mühendislik San. ve Tic. A.Ş.
Discover Events Fuar ve Organizasyon Ltd. Şti.
EKOS Electric
Ekrem Agro Dış Ticaret A.Ş.
Fora Grup Savunma Teknolojileri ve Dan. Tic. Ltd. Sti.
HARMIAD Harita Mühendisleri İş Adamları Derneği
Ipekyolu International Exhibitions
Kay Investment Dış Ticaret A.Ş.
Lerona Mobilya Tic. San. Ltd. Şti.
Mono Steel Makina San. ve Tic. Ltd. Şti.
MSC Gemi Acenteliği A.Ş
Poelsan Plastik Sanayi ve Ticaret A.Ş.
Talia Makina ve Gıda Maddeleri San. ve Tic. A.Ş.
Turaç Dış Ticaret Ltd. Şti.
Tüm Ekip İlaç A.Ş. 
Standard Exhibition Stand with Octanorm System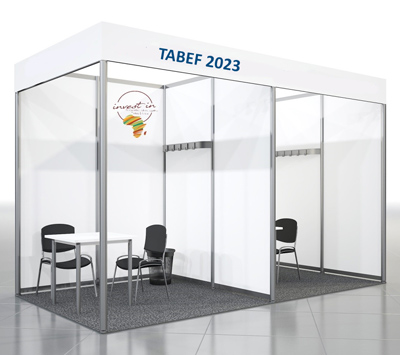 Booth Dimensions: 3m x 2m (6m2)
Material: Octanorm, Matt Silver, Construction Height 2,5m
Rear and Side Walls: white
Fully Carpeted Stand Space
Cover Panels 2m x 0.3m incl. lettering / logo
Duo Beam all round
Lighting: 1 Spotlight, 100W per 3m²
Power Connection: 230V / 3kW with multiple socket-outlet and flat-rate power consumption
1 Suqare (Laminate) Table + 2 Leather White Chairs + 1 Dustbin
2 Free Passes
Please contact us at tabef@deik.org.tr for stand rental prices.